Why Gooseneck Pedestal Stands?
It's no secret that gooseneck stands are a valuable addition to traffic control systems. Gooseneck stands to allow access control keypads, entry control devices, and other units to stand upright on a secure mount and pedestal. But you may be asking yourself, why purchase your stands from GooseneckStands.com?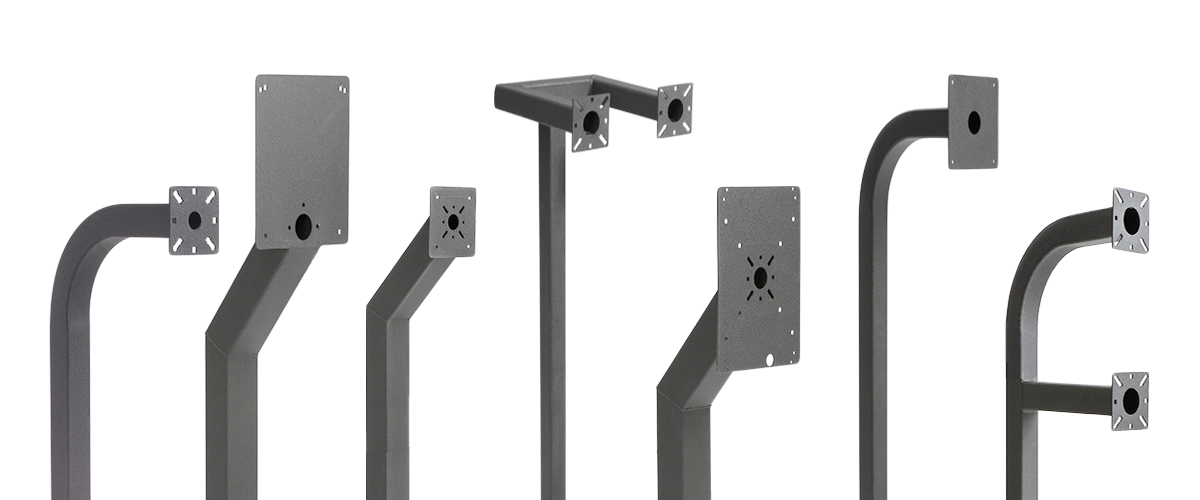 The pedestals, hoods, housings, and accessories we offer are the best in the industry. We emphasize a quality-centric approach to manufacturing. Each gooseneck stand is designed to stand as an extra barrier, enhancing the security of your home or business. All traffic control arms from GooseneckStands.com provide a durable mounting solution for card readers, keypads, intercoms, security cameras, and more!
Our popular gooseneck pedestals are available in heights ranging from 36" to 84", making it easy to find one to suit your needs. They are created with 11-gauge steel and include a faceplate with a universal hole pattern to fit thousands of electronic devices literally. Neck throws are bent with a 6" center radius, giving our pedestals a tight, professional look. All pedestals, hoods, and houses are finished with an intense powder coating cycle and are boxed with all necessary carriage bolt hardware, ensuring your mounted pedestal will withstand the toughest elements.
Apart from our durable access control arms, we offer a wide selection of hoods, housings, and accessories to complement your stands. Our pedestal hoods protect access control devices from damage caused by environmental hazards. Made from carbon steel, all hoods are available in a wide range of finishes and shapes. Our unique housings allow you to install all of your access control devices together in one spot. Made from 16-gauge carbon steel, each housing includes a weather-stripping treatment and a stainless steel hinge. Just like the hoods, our housings come in various finishes, shapes, and sizes to fit your needs.
We have been in the business for over 30 years and know our stuff! We are here to offer advice and answer any questions you may have about gooseneck stands, gate access control systems, and more. Interested in purchase orders? We will provide you with a free sales quote at no obligation to you. Need your order in a hurry? With an excellent customer service team, we assure you your order will be processed fast!
The best part? We offer all of these great products and services at discounted rates! If you receive a lower quote on our products, we will price-match it. Here at GooseneckStands.com, we aim to meet or exceed your expectations. We look forward to hearing from you!